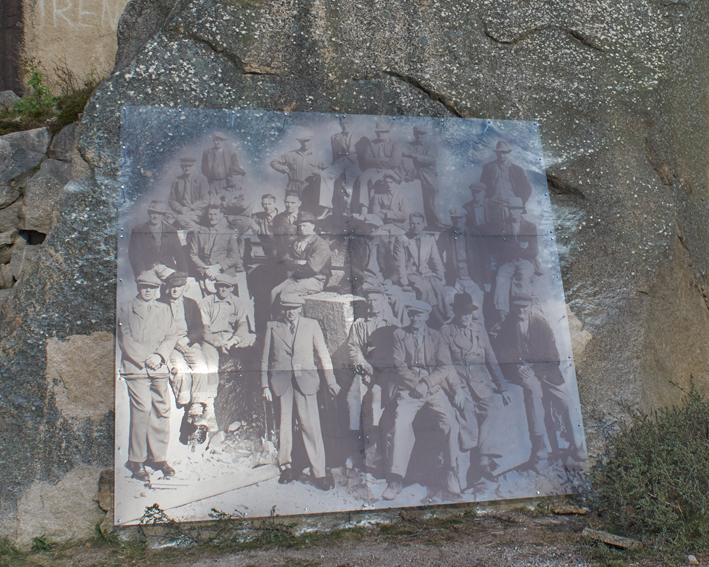 Verket är en del av Uddenskulptur 2018 –
in situ –
i Hunnebostrand. Utställningen pågår från 2 juni tom 30 september. Läs mer om Uddenskulptur här eller på Facebook.

Grupporträtt nr 13

Digitaltryck på PETG


365 x 410 cm
Foto: Bohusläns museum
En plats – Udden. Ett tema – In situ (latin) – i orubbat läge, på plats.
Platsen och Temat är ett.
"
Porträttets huvudsakliga funktion är att avbilda en eller flera personer, samt representera den icke närvarande, att erinra om denne och att ära denne."
I slutet av 1920-talet började hantverksskickliga arbetare bryta sten på Udden.
Stenhuggarna som står uppställda med Nordre Hoge berg som fond är troligen porträtterade under tidigt 30-tal men det saknas närmare upplysningar om årtal och fotograf.
Foton/Photos: Helena Marika Ekenger, Hans Leutscher & Mats Ekenger
Group portrait no 13


Digital print on PETG
365 x 410 cm
Photo: Bohusläns museum
A place – Udden. A theme – In Situ (latin) – in the original position or place.
The place and the theme are one.
"The main purpose of a portrait is to depict one or more persons and to represent the person who is not present, to remember her, and to honour her".
At the end of the 1920s artisanal workers started to quarry stone at Udden. The stonecutters that are set with the Nordre Hoge mountain as a backdrop are probably portrayed in the early 1930s but we miss more information about the exact year and the photographer.
The work is part of Uddenskulptur 2018 – in situ – in Hunnebostrand. The Exhibition is open from June 2 to September 30.
Read more about Uddenskulptur here or at Facebook.