Operaperformance med tre sångare och en dansare
Spelas 11-14 maj 2023 på House of Possibilitas, Göteborg och 5-8 oktober på Atalante, Göteborg.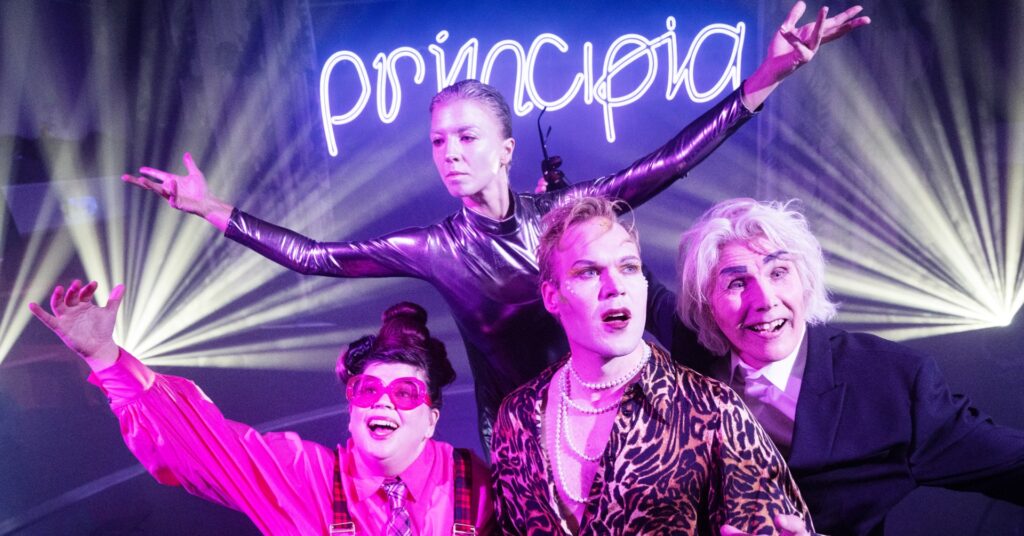 Var är vi nu? Vad kommer vi att göra? Är detta resans sista position? Solitary Traveler är en opera för tre sångare som utspelar sig i något svävande och återkommande. Rösterna kan vara planeter som Merkurius, Jupiter eller Venus. Det kan också vara människor eller olika röster i en och samma människa, detta beroende på vilka omloppsbanor, från det inre till det yttre, som för närvarande är i din resas brännpunkt. Ömhet. Attraktion. Perfektion. Kropparna befinner sig ständigt i förhållande till varandra, ibland långt ifrån men aldrig helt åtskilda, ibland nära men aldrig helt tillsammans. Den kosmiska lagen gäller allt och alla. Handlingen i Solitary Traveler är skapad utifrån Isaac Newtons banbrytande vetenskapliga arbete Principia Mathematica om gravitation, fallrörelse och himlakroppars dragningskraft. Det sceniska rummet, som skapas specifikt för varje spelplats är Newtons spelplan: kosmos. Sången i operan är på engelska. Libretto, musik och performance är långt ifrån akademiskt. Solitary Traveler gestaltar snarare en meditativ mänsklig längtan efter samhörighet.
Medverkande på scen:
Amanda Flodin – sångare
Karl Peter Eriksson – sångare
Peter Loguin – sångare
Nicole Neidert – dansare
Konstnärligt team:
Gunilla Johansson Gyllenspetz – sceniskt koncept, regi, dramaturg
Olle Niklasson – initiativtagare, libretto, komposition sångstämmor
Jonas Redig – elektronisk komposition
Martin Eriksson – scenografi, kostym
Christofer W Fogelberg – ljusdesign
Helena Ekenger – mask
Colin Ferguson – konstruktör
Produktion: Possibilitas
I samarbete med Folkuniversitet och med stöd av Kulturrådet, Göteborgs Stad och House of Possibilitas.